This April starts beautifully. Heading towards outdoor cuisine.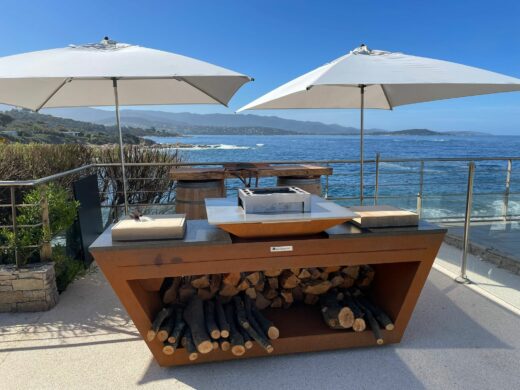 April is often a sign of change in temperature and an opportunity to innovate to enhance our daily lives. Opt for outdoor cuisine to add originality to your terrace or garden.
We had the immense joy and honor of equipping the luxurious hotel: Sofitel Ajaccio in Corsica.
This establishment has magnificent outdoor spaces that required arrangement and novelty.
The Sofitel chose one of our outdoor kitchens for hotel and restaurant professionals: the Rolling Kitchen.
The Rolling Kitchen is a high-end, mobile outdoor kitchen on wheels that appeals to all restaurant professionals. Equipped with a brazier and a 1m by 1m plancha, this surface can cook for more than 100 guests. Ideal for your events.
Original, sophisticated, and modern, the outdoor kitchen is appreciated for its nomadic, practical, and user-friendly aspect.
Want to create a chic and casual ambiance at your events? Then the Rolling Kitchen will be your best compromise!
The Rolling Kitchen is available in Corten or Carbon finishes, with or without a sink system equipped with an integrated water heater and a ceramic countertop. Available in wood-burning or gas versions.
Offer yourself the outdoor kitchen to attract new customers to your establishment!
Nicolazi Design is a designer and manufacturer of high-end outdoor products. From garden furniture to outdoor kitchens, braziers, and pizza ovens, give your outdoor space the design it deserves. Are you a restaurant professional or in the hotel industry? Nicolazi Design surely has the product you need!
We also invite you to explore our 360° showrooms in La Garde on our website and connect with us on social media through Instagram and Facebook